The European Central Bank revealed plans to offer an "anonymous" digital euro in a new round of proposals designed to make the currency more accessible.
Register now on Binance, add 50$ and get 100$ bonus voucher!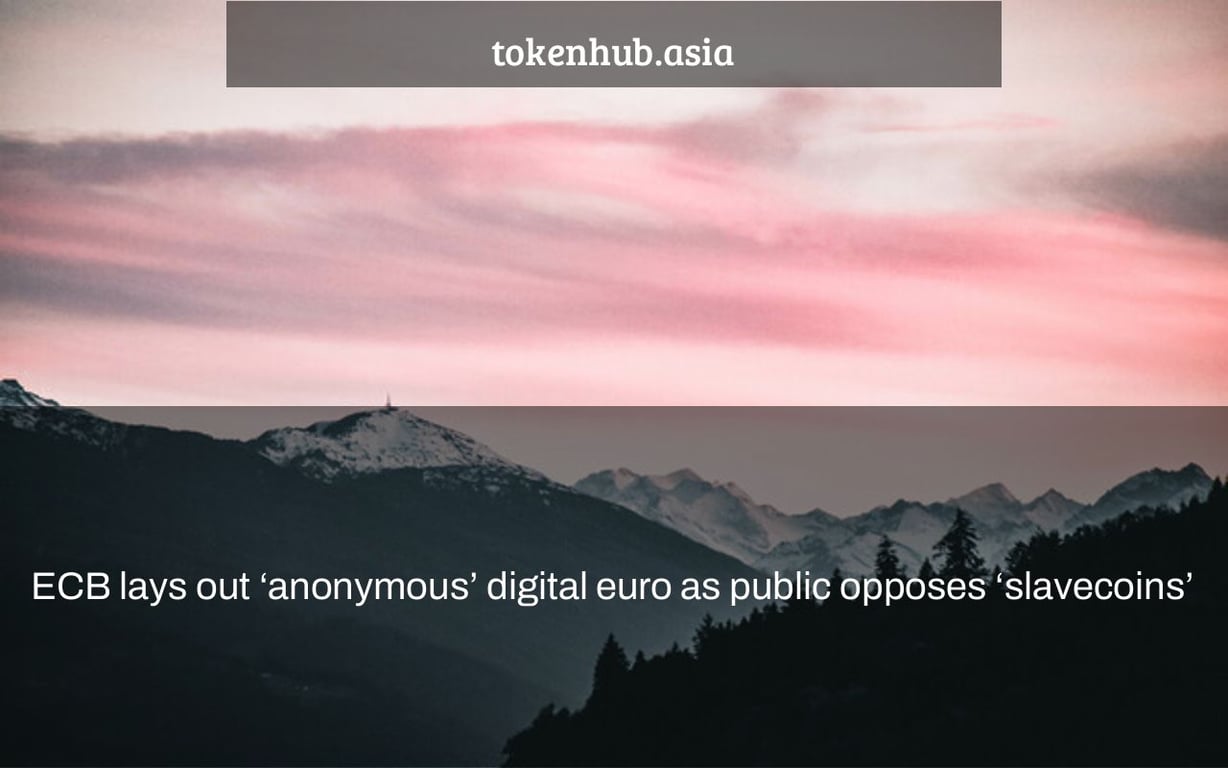 The European Central Bank (ECB) has produced a new working paper on the digital euro, which includes a technical examination of a prospective European CBDC and its place in the current financial system.
The working paper, which was released on May 13, attempts to investigate topics such as financial intermediation, payment options, and privacy in the digital economy, as well as provide a significant number of algebra-based findings.
According to the report, a "CBDC with anonymity" is superior to conventional digital payments such as bank deposits, but it "may be overtaken" by digital currencies, or "payment tokens," produced by tech firms.
"This danger would be amplified if such platforms compete with banks in the financial services industry." However, making data sharing features voluntary might lead to wider CBDC adoption, according to the working paper.
One of the biggest issues with cash, according to the ECB, is that it cannot be utilized for more efficient online transitions while maintaining anonymity. Bank deposits, on the other hand, may be utilized online but do not give adequate anonymity.
Finally, the ECB said that digital currencies created by internet platforms "allow merchants to conceal from banks while enabling platforms to hinder competition."
Despite Europeans' apparent reservations about a digital euro, the European Central Bank (ECB) continues to promote its central bank digital currency (CBDC) initiative.
"All frictions may be addressed with an independent digital payment instrument — a CBDC — that enables agents to exchange their payment data with chosen parties […] Merchants may prevent banks from obtaining information from payment flows by using a CBDC with anonymity."
Register now on Binance, add 50$ and get 100$ bonus voucher!
While the ECB continues to promote a hypothetical digital euro with anonymity characteristics, Europeans remain skeptical of any CBDC. The majority of Europeans oppose the introduction of a CBDC in the European Union, according to public input from another digital euro survey.
At the time of writing, the consultation had received 14,110 responses, with many people criticizing the notion of a central bank-controlled digital money and the related loss of user privacy. Some online critics referred to a CBDC as a "slavecoin," implying that such financial instruments may lead to "digital enslavement."
Why don't you read the comments from the public? A CBDC is opposed by every single person. It's a nightmare of mass monitoring and panopticon. Expiration is programmable. Interest rates are negative. Killer of liberty. https://t.co/leJJ64UMn9
May 13, 2022 — Bitcoin Comfy (@BitcoinComfy)
"In the context of the EU referral, the digital euro is incompatible with both privacy protection and data protection legislation." […] A tiny guarantor control system is required," Austrian citizen Schmidl Andreas wrote.
"I am completely opposed to the introduction of a digital euro because I do not want to be reliant on the internet to make purchases." Another anonymous user added, "I strongly oppose the digital euro since it leads to ultimate control and limits our basic rights and liberties."
As previously highlighted by Cointelegraph, one of the most serious issues with central bank digital currencies is the issue of user privacy. This immediately became a major issue for international authorities and governments, who must prohibit illegal money activities while maintaining anonymity.
User privacy was ranked as the most crucial element of a digital euro by individuals and experts in the European Union in a prior public survey issued in April 2021.
Related: ECB presentation reveals proposed digital euro designs lack privacy choices
There are a number of additional issues with a digital euro, including a perceived lack of demand. The fundamental goal of the digital euro, according to Jonas Gross, head of the Digital Euro Association, is still unclear. Last year, BBVA's regulatory executive Pablo Urbiola stated that it was unclear what kind of consumer demand the digital euro was designed to fulfill.
According to European Commission Finance Commissioner Mairead McGuinness, the ECB still plans to release a prototype CBDC in late 2023.
Register now on Binance, add 50$ and get 100$ bonus voucher!